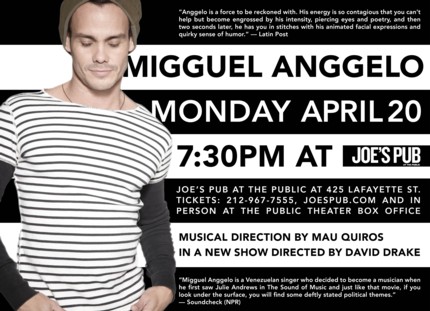 Feb 11, 2015
BACK AT JOE'S PUB ON MONDAY APRIL 20th WITH A BRAND, NEW SHOW!
I'm honored to be returning to Joe's Pub on Monday night, April 20th at 7:30 PM. Not only do we have a whole new show for you, but we'll be celebrating the launch of our new album "La Casa Azul" that night too. The show is directed by the multi-talented actor, director, and writer David Drake who I am so thrilled to be collaborating with, and of course, my long-time Musical Director Mau Quiros is at the piano conducting the band once again.
It will be an amazing night, and you can get tickets here.
See you there!
Migguel Anggelo