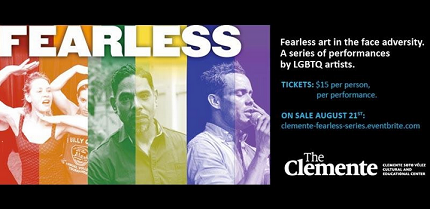 Aug 23, 2017
Next Up: Welcome to la Misa, Baby
I'm excited and honored to premiere a new play that I have been working on with co-writer, director, and Obie Award winner David Drake called Welcome to la Misa, Baby. The piece is part of The Clemente's Fearless series this fall, featuring LGBTQ artists presenting works in direct response to the tragedy in Orlando and continuing attacks against the LGBTQ community.
I'll swirl through a gallery or characters found in the most sacred of places in queer culture: The Gay Disco. Whether looking for love, sex, friends, drugs, freedom of expression, or a way to escape their mother, Welcome to La Misa, Baby delves into the Latino immigrant experience of what it means to be gay in America today, with both humor and poignancy in equal measure.
We'll be at the Flamboyan Theater at The Clemente Cultural Center on . . .
Thursday, October 26th, 7:30pm
Friday, October 27th, 7:30pm
Sunday, October 29th, 3:00pm
For tickets: www.clemente-fearless-series.eventbrite.com
For more information: http://www.theclementecenter.org/
Join us. I can't wait to share this work with you.
Besos,
Migguel Anggelo